Connections Through Time
P-I-A's Quarterly Online Publication
Issue 11: April - June 2001
Transactions, Ethics and Protocol 5
Contents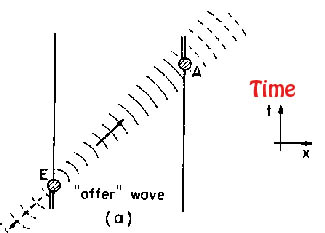 Physics Transactional Interpretation of Quantum Mechanics
Quantum mechanics is our most accurate description for interactions between matter and electromagnetic waves. The meaning of this mysterious description has been hotly debated for about 75 years. This relatively new interpretation includes waves that travel both backwards and forwards in time. Who knows, maybe buried in here is an interpretation that can include precognition.
Intuition Ethics
As Remote Viewing and other psychic skills are applied in more visible fashions, the need for the highest ethical standards will become increasingly important. Privacy and secrecy are very "hot buttons" in our society and need to be openly discussed.
Applications Protocol 5 - If you've been trained in Remote Viewing, this may be for you.
ISSN: 1525-8807

Copyright 2001 by Physics-Intuition-Applications, Inc.
Please email your comments to the editor, or use the contact link in the navigation rectangle at the top right of all our webpages.