Connections Through Time
P-I-A's Quarterly Online Publication
Issue 7: April - June 2000
The SubConscious and a Precognition Experiment
Contents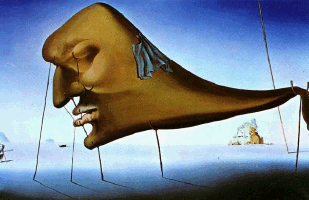 Physics The SubConscious (SC) and the Self
Each of us consciously participates in defining our selves, and yet, there seems to be so much that goes on SubConsciously. How much of what we do in our lives is really driven by our SC? Freud and Jung were two pioneers in studying what lies under our conscious self.



"Le Sommeil" (The Sleep), Salvador Dali




Intuition
The SubConscious and an Ongoing Precognition Experiment
The SubConscious (SC) has access to precognitive information. The challenge seems to be to train communication skills between the SC and conscious aspects of the self.
Applications
AVM Precognition Project: Summary of Results for Protocol-1
ISSN: 1525-8807
Copyright 2000 by Physics-Intuition-Applications, Inc.
Please email your comments to the editor, or use the contact link in the navigation rectangle at the top right of all our webpages.