Connections Through Time

P-I-A's Quarterly Online Publication
Issue 13: October - December 2001
Effects of Consciousness on "Odds Against Chance"
Physics Can Global Events Affect Random Number Generators (RNGs)?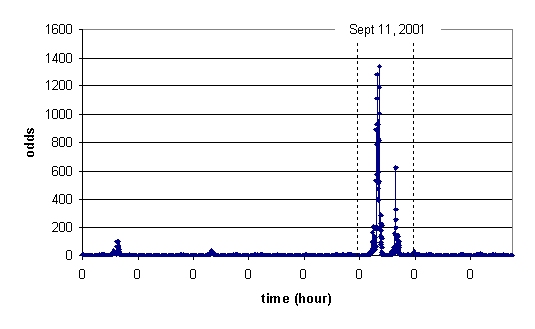 The odds against chance versus time are plotted for the RNGs using the statistical approach of Radin. The GCP data are for September 6, 2001 through September 13. The 0's represent the start of each day EDT.
Intuition Individual Intentions Can Affect RNGs
The "odds against chance" of this conclusion being wrong are about 3,000,000,000,000 to 1 (3 trillion to 1).

This conclusion has been reached and published in a paper entitled, Correlations of Random Binary Sequences with Pre-Stated Operator Intention: A Review of a 12-Year Program, R. G. Jahn, B. J. Dunne, R. D. Nelson, Y. H. Dobyns, and G. J. Bradish, Princeton Engineering Anomalies Research (PEAR), School of Engineering and Applied Science, Princeton University, 1997.
Applications Protocol 5 Report
ISSN: 1525-8807

Copyright 2001 by Physics-Intuition-Applications, Inc.
Please email your comments to the editor, or use the contact link in the navigation rectangle at the top right of all our webpages.